Dec 7 LONGINES International Jockeys' Championship
Gracing Happy Valley Racecourse this year are 12 exceptional jockeys – eight from overseas and four from Hong Kong. They include LONGINES IJC's very own star couple, Tom Marquand and Hollie Doyle, with Doyle and Jamie Kah being among the two best female jockeys in the world. LONGINES World's Best Jockey James McDonald and last year's champion, Zac Purton, will also be competing.
Be there to witness who will be this year's champion!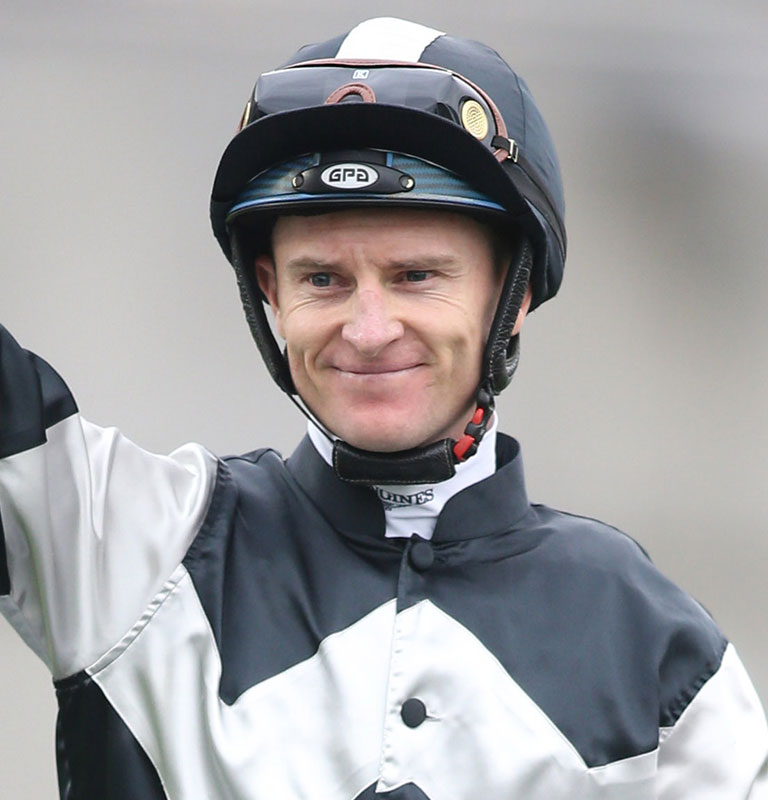 Zac Purton
(Reigning IJC Champion and Hong Kong Champion Jockey)
Age: 39
Background: Zac Purton ended Douglas Whyte's 13-season dominance with his first Hong Kong jockeys' championship in 2013/14 (112 wins) and in earning his second title in 2017/18 he halted Joao Moreira's streak at three. Since then, Purton has added a further three titles to his collection and through 2018/19 he tallied a career-high 168 wins, a season in which he also became the second jockey in Hong Kong history to ride 1000 winners and set a new single season prizemoney record of HK$234,989,515. His triumph aboard Exultant in the 2020 QEII Cup meant he became the only rider in history to win every G1 on the Hong Kong calendar. Purton's championship winning streak was stopped at three in 2020/21 but he soon reclaimed the title in 2021/22. He took his fifth title after another enthralling battle with Moreira, enjoying huge success with 136 wins, including his third Stewards' Cup triumph, this time aboard the John Size-trained Waikuku. He also sealed a third LONGINES International Jockeys' Championship title, beating off an all-star cast of rivals at Happy Valley. Throughout last season, Purton achieved his 1,400th career milestone win in Hong Kong. He claimed a second G1 Hong Kong Cup triumph in 2020, aboard Normcore for Japan to make him the most successful jockey in HKIR history with nine wins, ending the dead-lock he previously shared Gerald Mosse who has eight wins. So far, Purton has enjoyed a flying start to the 2022/23 season, comfortably sitting at the top of the jockeys' championship. Purton started his career in Brisbane and enjoyed incredible success as an apprentice, winning the premiership there in 2003. Purton moved to Hong Kong in September, 2007 and he boasts a famous Royal Ascot win for Hong Kong aboard the Danny Shum-trained Little Bridge in the 2012 King's Stand Stakes.
Honours: Hong Kong Champion Jockey (2013/14, 2017/18, 2018/19, 2019/20, 2021/22); Brisbane Champion Jockey (2003 - when still an apprentice); LONGINES IJC (2017, 2020 & 2021); World Super Jockeys Series (Japan) winner (2012).
IJC record: 2021 – WON; 2020 - WON; 2019 - 9th; 2018 - 10th (DH); 2017 - WON; 2016 - 7th; 2014 - 6th; 2013 - 2nd; 2012 - 2nd.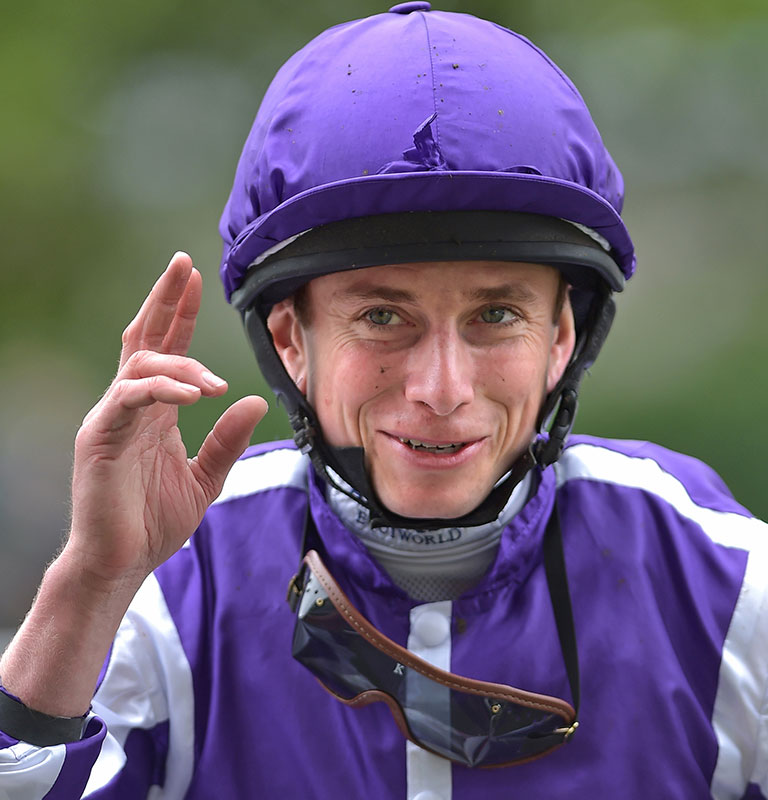 Ryan Moore
(Britain)
Age: 39
Background: Ryan Moore is a two-time winner of the LONGINES IJC. He is the outstanding international rider of recent years and was the first recipient of the LONGINES World's Best Jockey Award as a result of 15 G1 wins in 2014. He won that accolade again in 2016 and 2021. Moore hails from a racing family. His first win came for his trainer father, Gary Moore, on Mersey Beat over hurdles at Towcester in May, 2000. His first professional Flat win came on Marwell's Kiss at Lingfield in January, 2002. He notched a first G1 aboard Notnowcato in the 2006 Juddmonte International Stakes at York. Moore has won some of the world's foremost races including the LONGINES Hong Kong Sprint (2020 Danon Smash), LONGINES Hong Kong Cup (2016 Maurice), LONGINES Hong Kong Mile (2015 Maurice), LONGINES Hong Kong Vase (2015 & 2017 Highland Reel, 2020 Mogul), Prix de l'Arc de Triomphe, Melbourne Cup, English Derby, Japan Cup and Breeders' Cup Turf. Through 2022, he has won no less than a further 15 G1s including a fourth Oaks success aboard Tuesday, a fourth Irish Champion Stakes atop Luxembourg and a third Ascot Gold Cup aboard Kyprios. He won three G1s at the recent Breeders' Cup meeting at Keeneland, including his second Breeders' Cup Filly & Mare Turf success atop Tuesday.
Honours: British Champion Jockey (2006, 2008 & 2009); British Champion Apprentice (2003); LONGINES IJC winner (2009 [shared] & 2010); LONGINES World's Best Jockey Award winner (2014, 2016 & 2021).
IJC record: 2021 – 6th; 2020 – 6th; 2019 - 2nd; 2018 - 5th; 2017 - 6th; 2016 - 2nd; 2015 - 2nd; 2014 - 4th; 2013 - 5th; 2012 - 3rd; 2011 - 6th (DH); 2010 - WON; 2009 - WON (DH); 2007 - 10th (DH); 2006 - 6th.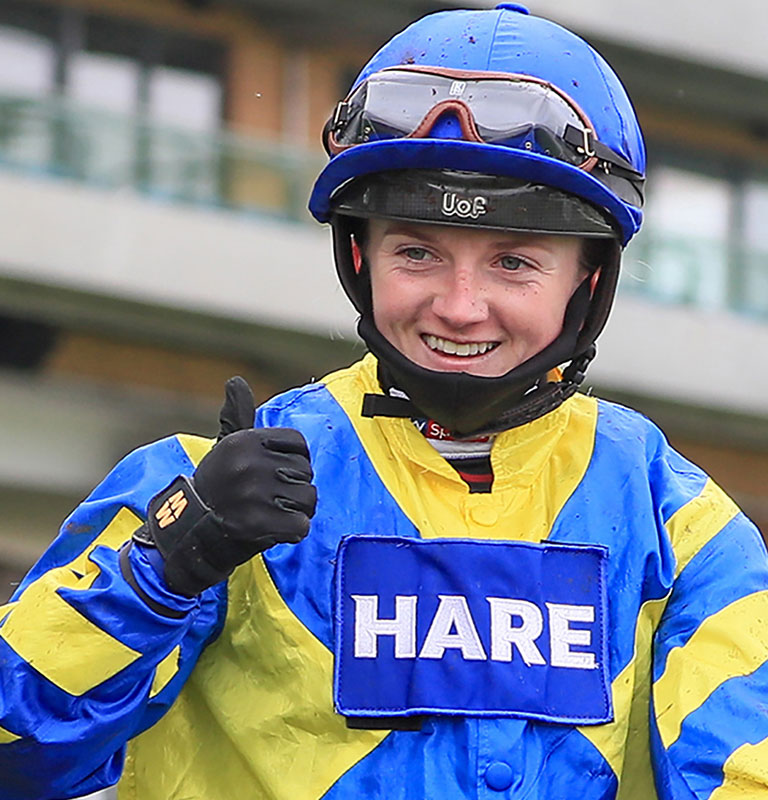 Hollie Doyle
(Britain)
Age: 26
Background: Hollie Doyle made a winning debut as a jockey, scoring at Salisbury in 2013 aboard The Mongoose. After completing high school, she joined the yard of David Evans in Wales, and during winter, would spend six weeks riding out at Santa Anita, California. In 2014, Doyle began her apprenticeship at the Wiltshire yard of four-time British champion trainer, Richard Hannon Sr., and she rode out her claim in November, 2017. Doyle rode her 152nd winner of the year on 22 October 2021, surpassing her own record for a British female jockey of wins through a calendar year after her 151 wins in 2020. She made a single-day record for a female jockey with five wins at Windsor Racecourse on 29 August, 2020. Doyle also secured her first Group race victory in the G2 Princess of Wales's Stakes at Newmarket aboard Dame Malliot, and her first Royal Ascot success came with 33/1 chance Scarlet Dragon in the Duke of Edinburgh Stakes in 2020. Her biggest success to date also came at Ascot in the 2020 G1 British Champions Sprint Stakes atop Glen Shiel, who gave her a British Champions Day double after Trueshan had powered clear of his rivals in the G2 British Champions Long Distance Cup. Later that year she participated in the LONGINES IJC for the first time, and become the first female jockey to win leg of the IJC, helping her to finish joint third with Alexis Badel in the event. She won a second IJC race in 2021 on her way to finishing joint-second in last year's event. She is the retained rider of Classic-winning owner and breeder Imad Al Sagar. She added a second Group 1 to her tally in 2021 with the victory of Trueshan in the Goodwood Cup and has since formed a strong alliance with Nashwa – winning a further two G1s aboard the youngster in 2022, including victory in the Prix de Diane. Hollie married Tom Marquand in March, 2022. Her latest G1 success came in the Prix de l'Abbaye de Longchamp atop The Platinum Queen.
Honours: First female jockey to ride five winners in on day (Windsor Racecourse, 29 August, 2020); Single season record for most winners ridden by a female jockey (172 in  2021).
IJC record: 2021 – 2nd (DH); 2020 – 3rd (DH).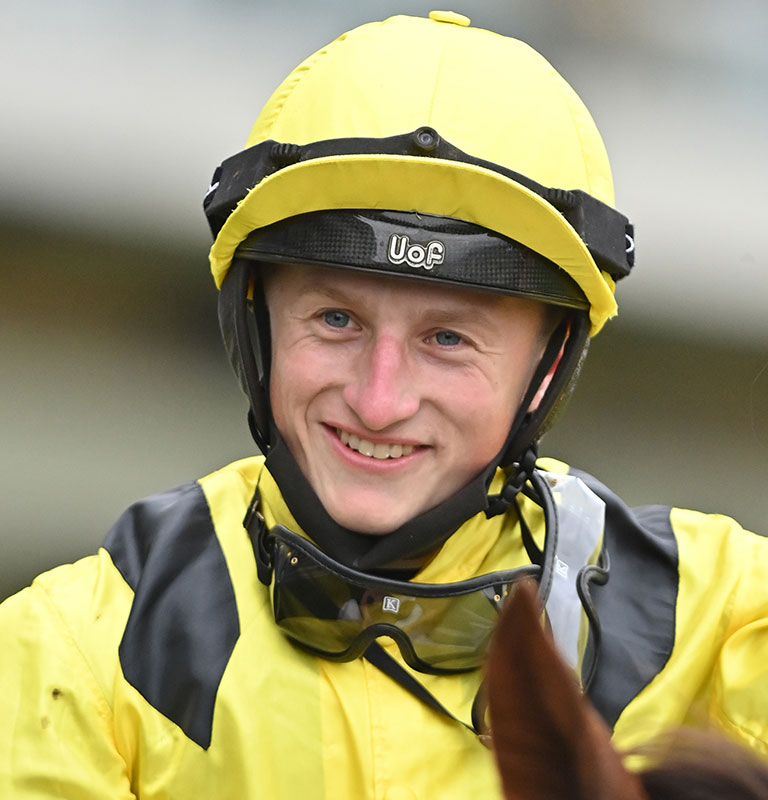 Tom Marquand
(Britain)
Age: 24
Background: Tom Marquand doesn't come from a racing background but at the age of 12 the decision to get riding lessons led him to pony racing, the British Racing School, and at the age of 15, Arab racing. Next came the biggest step of his career, which saw him undertake an apprenticeship with Richard Hannon Sr. at his Wiltshire yard. The following year he was British Champion Apprentice with 54 wins, and in 2017, he landed a first Group race victory, securing the G3 Dick Poole Fillies' Stakes at Salisbury with Anna Nerium. In 2018 Marquand rode over 100 winners for the first time, and at the end of that year he spent six weeks in Australia riding for trainer John O'Shea. Marquand added two more G3 successes on his return to Europe, including one in France at Saint-Cloud, and another trip to Australia in 2020 produced a G1 double aboard the William Haggas-trained Addeybb in the Ranvet Stakes at Rosehill Gardens and the Queen Elizabeth Stakes at Randwick. His success Down Under garnered him the nickname 'Aussie Tom' from Australians. In 2020, Marquand landed a first British G1 and Classic victory aboard Galileo Chrome in the St Leger Stakes at Doncaster, before reuniting with Addeybb to claim the Champion Stakes at Ascot on British Champions Day. In 2021 he achieved further success abroad atop Addeybb with victory in the G1 Queen Elizabeth Stakes in Australia and added victory atop Starman in the 2021 G1 July Cup to his top-level haul. In 2022, Marquand has added a further three G1s to his record in France, Ireland and Great Britain. Marquand's second taste of the IJC saw him finish joint-second in the series with victory aboard Awesome Treasure. He married Hollie Doyle in March, 2022.
Honours: British Champion Apprentice (2015).
IJC record: 2021 – 2nd (DH); 2020 – 10th.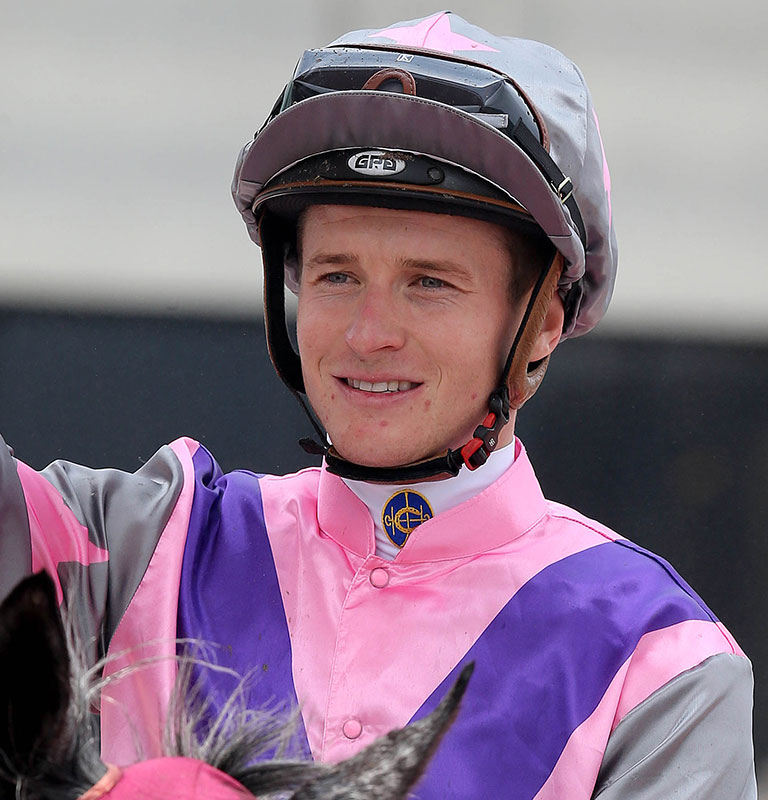 James McDonald
(New Zealand)
Age: 30
Background: James McDonald made a big impression in Hong Kong on his LONGINES IJC debut when still a teenager back in 2011, finishing runner-up to Frankie Dettori. He returned the following May and partnered Xtension to victory in the 2012 G1 Champions Mile at Sha Tin. Champion Apprentice in his homeland, he went on to claim the Championship there twice, in 2008/09 and latterly with a New Zealand record tally of 207 for the 2010/11 season. In 2012 he won a first New Zealand Derby. He clinched his first Sydney Championship in July, 2014, bagged a second in 2015/16 and has since added an astonishing three more. He now has over 70 G1 wins and nearly 2,000 career wins, and is currently in terrific form. In 2021, he won the Melbourne Cup – Australia's most-famous race – aboard Verry Elleegant, Darley Sprint Classic with Nature Strip, Coolmore Stud Stakes atop Home Affairs and Mackinnon Stakes with Zaaki, while through 2022 he has claimed no less than 14 G1s including a famous Australian victory aboard Nature Strip in the King's Stand Stakes at Royal Ascot. He currently sits at the top of both the Australian and New South Wales Jockey Championships.
Honours include: Sydney Champion Jockey (2013/14, 2015/16, 2018/19, 2019/20, 2020/21 & 2021/22); New Zealand Champion Jockey (2008/09 & 2010/11).
IJC record: 2021 – 2nd (DH); 2019 – 10th; 2015 - 9th; 2014 - 3rd; 2012 - 10th (DH); 2011 - 2nd.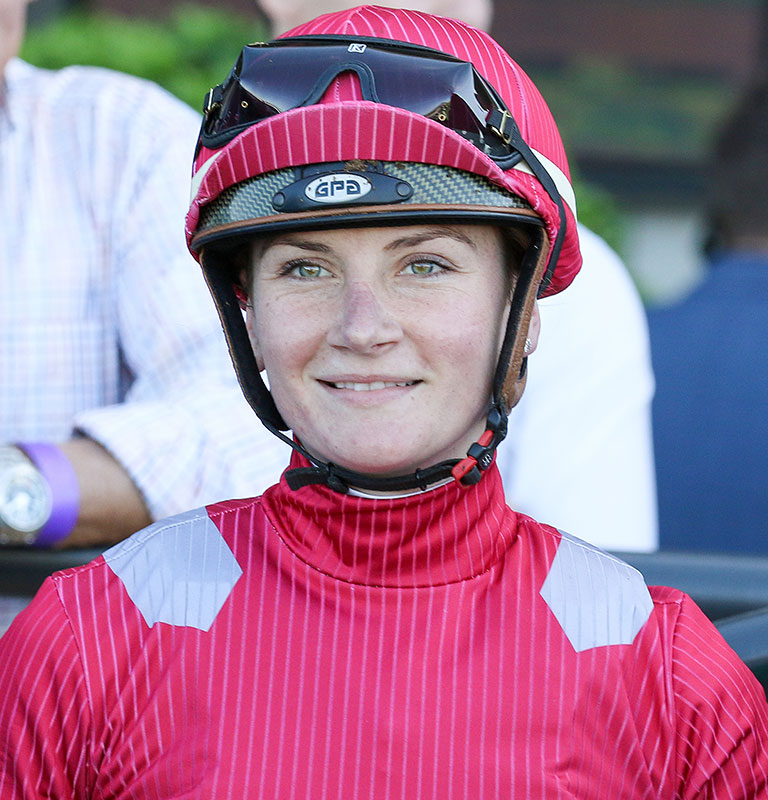 Jamie Kah
(Australia)
Age: 26
Background: Jamie Kah has been a riding sensation ever since early on in her career. The 26-year-old has already ridden over 1,100 winners which has seen her claim honours in eight G1s. She won the South Australia Jockeys' Championship as an apprentice – becoming the first to do so in 20 years before adding a further two crowns to her haul in South Australia. Kah switched tack to Melbourne where she rewrote history by becoming the first jockey to ride 100 winners in a Melbourne metropolitan season – the fifth time she's brought up the ton in her career. In Melbourne and following her move from South Australia, she won the 2019 G1 Australian Cup and after her first top-level win she was selected to participate in the Shergar Cup at Ascot in Great Britain, helping the Ladies Team finish second. At the completion of her first full season in Victoria she was crowned World's Top Female Jockey, beating the UK's Hollie Doyle to capture a first title. Her eight G1 wins have her listed as the most successful female jockey in Australian racing history, this came after landing her sixth in the 2021 G1 Kingsford-Smith Cup success aboard Vega One. Recently she added two more G1 wins to her tally with Coolangatta in the Moir Stakes and Zaaki in the Champions Stakes. She also boasts G1 glory aboard the World's Best Sprinter – Nature Strip. Away from racing, Kah runs a sanctuary for retired racehorses in her native Australia.
Honours: South Australia Champion Jockey (2012/13, 2016/17 & 2017/18). Melbourne Champion Jockey (2020/21)
IJC record: Debut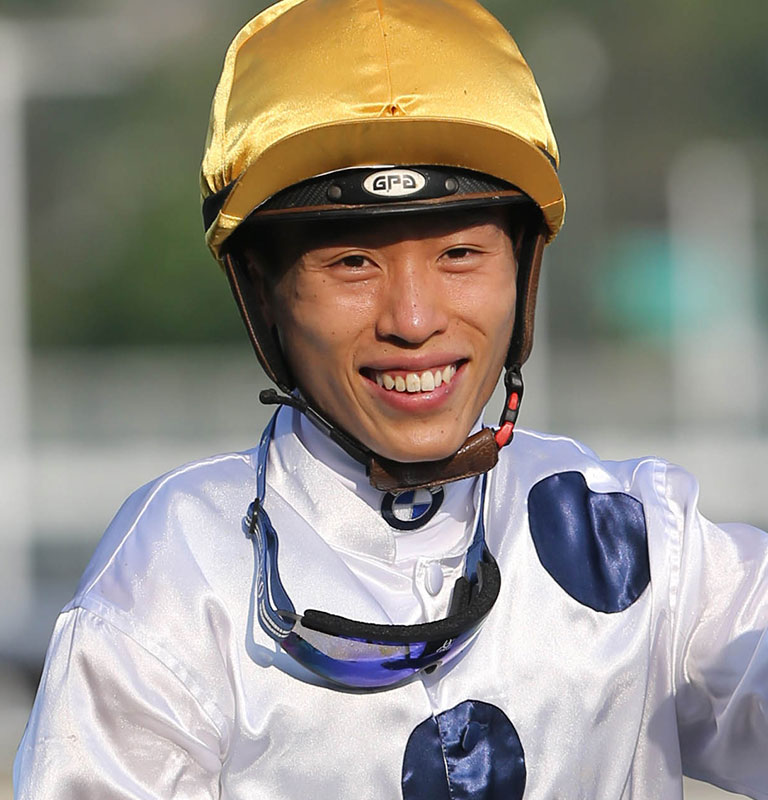 Vincent Ho
(Hong Kong)
Age: 32
Background: HKJC Apprentice Jockeys' School graduate Vincent Ho racked up 44 wins as a young rider in New Zealand under the tutelage of leading trainer Lance O'Sullivan. He made a sound start to his Hong Kong career with 10 victories in his first season in 2009/10, including a trio of wins he achieved on only his fourth race day in Hong Kong. He sealed the 2010/11 Champion Apprentice title with 39 wins. Ho reached the graduation benchmark on 1 October, 2012 by claiming his 70th win in Hong Kong on board Castle Hero and he notched 33 wins in 2014/15 to be the season's leading homegrown rider. On number of wins, Ho enjoyed his best season to date in 2019/20 when he amassed a career-high 67 wins. However, 2020/21 could be regarded as his best season yet when winning five Group 1s, thanks largely to reigning Hong Kong Horse of the Year, Golden Sixty, as well as Japan's Loves Only You, and at one time, he was ranked joint-top of the LONGINES World's Best Jockey standings. Ho also took a third consecutive Tony Cruz Award with 61 wins after keen competition with Jerry Chau. Last term, Ho added a trio of Group 1 wins to his haul with Golden Sixty and Stronger. Ho rode a short stint in Europe during the off-season in 2018 and notched a first UK win at the first attempt, partnering the Mark Johnston-trained X Rated to success at Haydock on 9 August. He returned to Britain during the 2019 off-season and competed at the Shergar Cup at Ascot where he won the Shergar Cup Mile aboard the Marcus Tregoning-trained Power Of Darkness, helping the Rest of the World team secure Shergar Cup glory. Between this season and last, Ho enjoyed a short stint in Japan which included a sole Group 3 success for trainer Yoshito Yahagi and spot in the 2022 World All-Star Jockeys at Sapporo.
Honours: Hong Kong Champion Apprentice (2010/11); Best Freelance Jockey Award (2014/15); Tony Cruz Award (2018/19, 2019/20 & 2020/21).
IJC record: 2021 – 10th (DH); 2020 – 8th (DH); 2019 – 3rd; 2018 – 3rd; 2014 – 5th.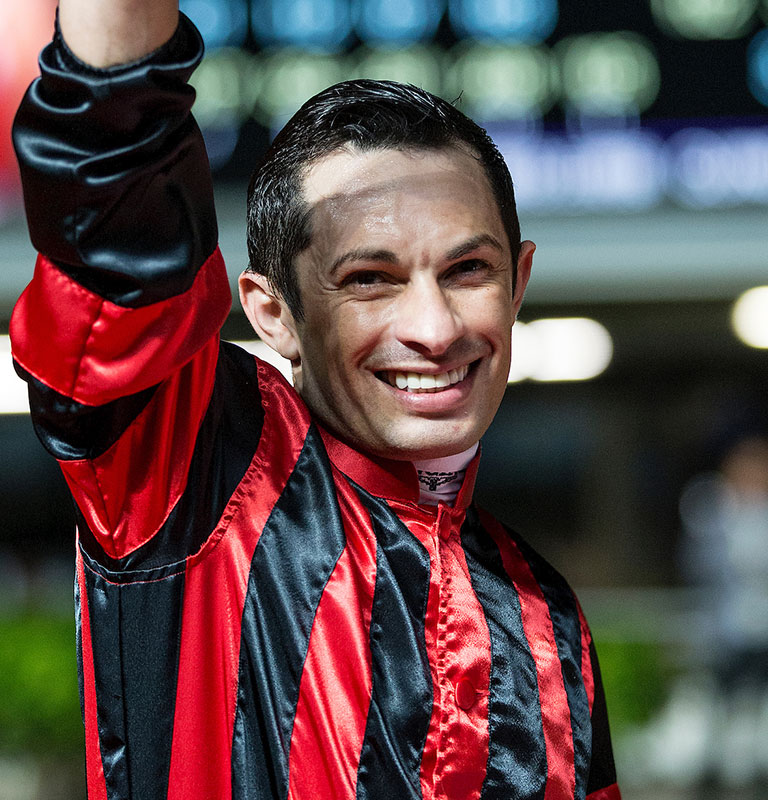 Silvestre de Sousa
(Hong Kong)
Age: 41
Background: One of 10 children, Silvestre de Sousa first sat on a horse on the family farm at age six, became an apprentice jockey at age 18 and within two years was champion apprentice in Sao Paulo. He moved to Europe at age 22 and was employed as a work rider for Dermot Weld. In 2004, dispirited after two years without a ride in public, De Sousa moved to England and teamed up with North Yorkshire trainer Dandy Nicholls. His first win in Britain was achieved aboard Sonic Anthem at Southwell on 1 January, 2006. Riding mainly for lesser trainers, often on longshots, he established his reputation on the northern circuit and in 2010 he rode his first century. With trainer Mark Johnston's support he finished runner-up in the 2011 British champion jockey race. He was retained by Godolphin from 2012 to 2014, during which time his haul included the G1 Dubai World Cup on African Story. Riding freelance in 2015, he achieved 132 wins to claim the British champion jockey title and repeated in 2017 (155 wins) and again in 2018 (148 wins). He was named as retained rider for King Power Racing in 2019 but is currently riding as a freelance. De Sousa notched 16 winners in each of his first two short winter stints in Hong Kong (2015/16 and 2016/17) and earned a fine 44 during a longer spell in 2018/19. In 2018, de Sousa lit up Happy Valley with victory in the 2018 LONGINES IJC and followed up four days later with a first HKIR win aboard Glorious Forever in the G1 Hong Kong Cup.
Honours: British Champion Jockey (2015, 2017 & 2018), LONGINES IJC winner (2018).
IJC record: 2019 – 6th (DH); 2018 – WON; 2017 – 2nd; 2015 – 4th.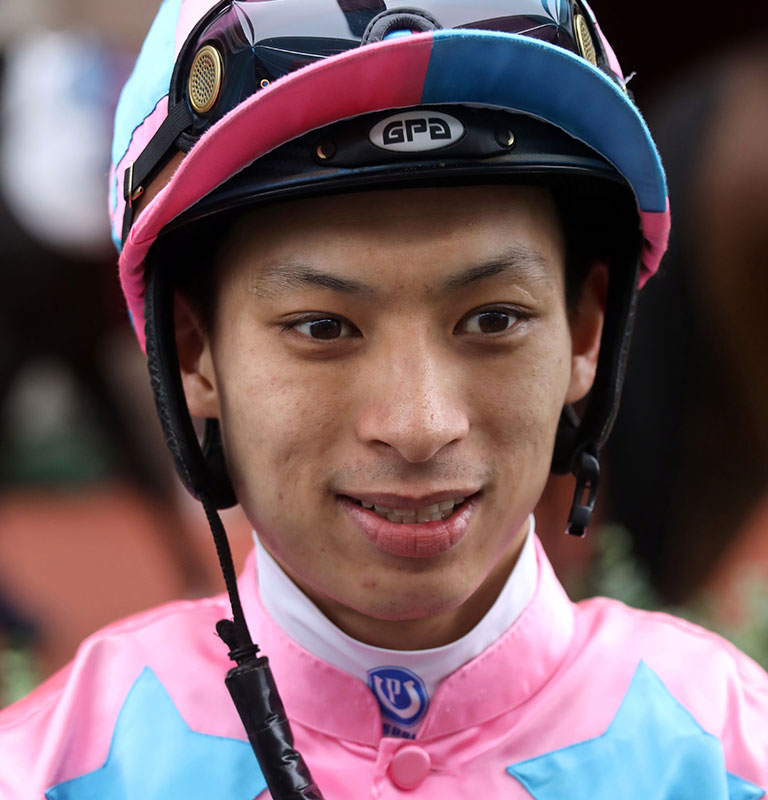 Matthew Chadwick
(Hong Kong)
Age: 32
Background: A graduate of the Hong Kong Jockey Club Apprentice Jockeys' School, Matthew Chadwick went to Australia for his apprentice training and rode a four-timer at Lismore at age 17. Indentured to the Tony Cruz stable upon his return to Hong Kong, he was champion apprentice in 2008/09. He earned a full jockey's licence in January, 2010. His first Group race winner was Egyptian Ra in the National Day Cup (2009). He is most famous for his partnership with California Memory and became the first homegrown rider to win a Hong Kong International Races contest when clinching the Hong Kong Cup on the grey in December, 2011. Chadwick notched his 250th win in Hong Kong with Majestic Anthem on 26 December, 2013 and rode his first Hong Kong four-timer at Sha Tin on 22 June, 2014. Chadwick closed out a successful 2021/22 campaign with 55 wins as the season's leading homegrown rider.
Honours: Tony Cruz Award (2021/22); Hong Kong Champion Apprentice (2008/09); Shergar Cup Silver Saddle winner (2012).
IJC record: 2012 – 8th; 2011 – 4th (DH); 2009 – 4th.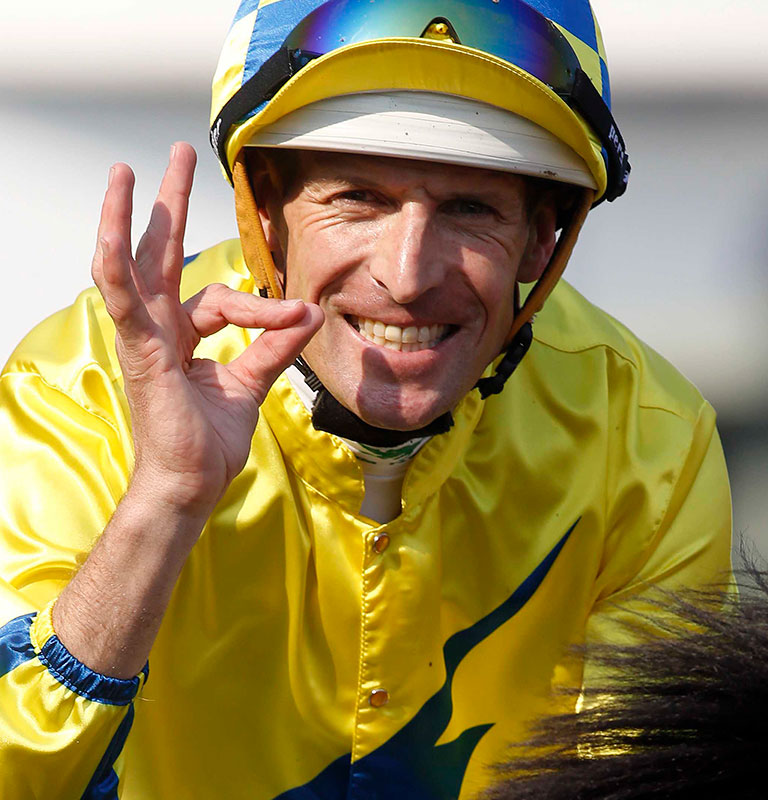 Hugh Bowman
(Australia)
Age: 42
Background: Hugh Bowman's name will forever be etched in racing folklore following his famous partnership with Australia's champion mare Winx. The winner of four consecutive W.S Cox Plates at Moonee Valley, Winx won 37 of her 43 career starts in Australia with Bowman partnering her to 25 Group 1 victories. Bowman, 42, has been crowned Sydney Champion Jockey on four occasions and boasts over 100 wins at Group 1 level. In Hong Kong, Bowman has enjoyed huge success having twice won the BMW Hong Kong Derby, while an association with Werther also returned victories in the QEII Cup, Hong Kong Gold Cup and Champions & Chater Cup. He also won the LONGINES International Jockeys' Championship in 2016. Born in rural New South Wales, Dunedoo to be exact, Bowman began working horses at a young age on the farm and comes from a lineage of horsemen with his grandfather and father both riding as amateur jockeys. At around age 15, Bowman began riding in country shows and picnic races. He also played polocrosse and participated in campdrafting. In 1997 he left school and started his apprenticeship as a jockey and was indentured to Leanne Aspros at Bathurst. Bowman then plied his trade under legendary New South Wales racing figure Ron Quinton, completing his apprenticeship under Quinton in Sydney. During his career, Bowman has been associated with Winx, Exceed And Excel, Samantha Miss, Werther and Cheval Grand. In 2019, Bowman was inducted into the Australian Racing Hall of Fame.
Honours: Sydney Champion Jockey (2008/09, 2011/12, 2014/15, 2016/17); LONGINES World's Best Jockey (2017); LONGINES IJC (2016), Australian Racing Hall of Fame inductee (2019).
IJC record: 2018 – 10th( DH);2017- 4th; 2016 - WON; 2015 - 10th (DH); 2009 - 7th.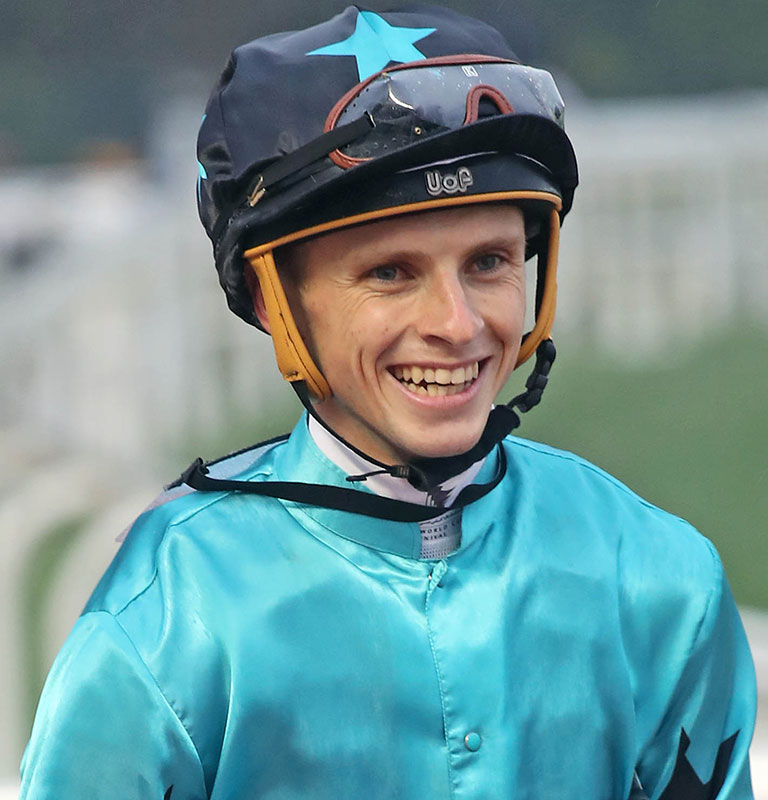 Lyle Hewitson
(Hong Kong)
Age: 25
Background: Lyle Hewitson hails from a racing family as his father, Carl Hewitson, is a former jockey who is now a trainer. Hewitson started out in the saddle playing Polocrosse, excelling at both a provincial and national level. At age 12 he set his sights on becoming a jockey and began riding work in Port Elizabeth during school holidays. Instead of heading directly to the South African Jockeys' Academy, Hewitson's parents were adamant he finish school first, which meant that he began his race-riding career in work riders' races outside of school hours. With an education under his belt, Hewitson joined the well-regarded South African Jockey Academy in 2016 and landed his first win at his 10th ride, aboard Blizzard Belle at Fairview. The emerging talent finished runner-up in the apprentice championship that season with 73 wins. Hewitson secured the champion apprentice title in 2016/17 with 124 wins. He took the title again in 2017/18 with 184 wins and in doing so made history as the first apprentice to win the full South African Jockeys' Championship since Michael Roberts in 1972/73. His most successful day in the saddle came when he landed a Group 1 double at Scottsville on Saturday, 25 May, 2019 aboard Eden Roc in the Sun Gold Medallion and Celtic Sea in the SA Fillies Sprint. After departing from his first contract in Hong Kong with three winners, Hewitson campaigned to Japan for a two-month stint which he finished with 19 wins and a pair of Group 2 triumphs after claiming the Spring Stakes atop Galore Creek at Nakayama Racecourse and Aoba Sho aboard Authority at Tokyo Racecourse. After a short stint in Japan, Hewitson returned to South Africa to capture a third champion jockey title, having ridden 263 winners through the 2020/21 season. Returning to Hong Kong in November, 2021, Hewitson struck with early success before a shocking fall in December stalled his headway. However, the affable South African made a remarkable return to race-riding in January, 2020 to close out the season with 27 wins – most of which came in tandem with fellow countryman Douglas Whyte.
Honours: South African Champion Jockey (2017/18, 2018/19, 2020/21); South African Champion Apprentice (2016/17 & 2017/18).
IJC record: 2021 – 10th (DH)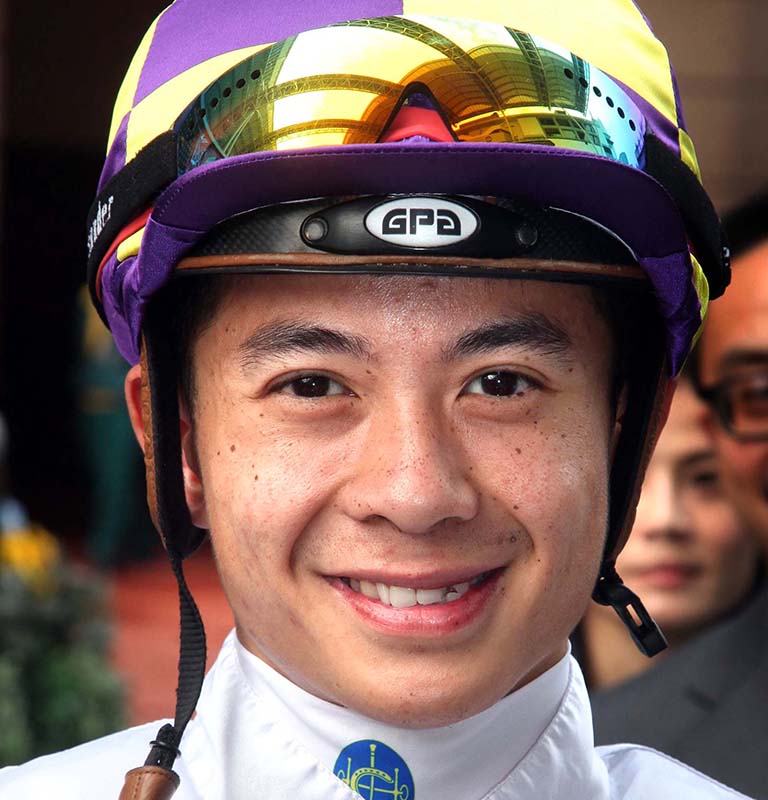 Derek Leung
(Hong Kong)
Age: 34
Background: A product of the Hong Kong Jockey Club Apprentice Jockeys' School, Derek Leung cut his teeth as a young rider in New Zealand under the tutelage of trainer Lance O'Sullivan. He was assigned as apprentice jockey to Paul O'Sullivan's stable upon his return to Hong Kong and reached the graduation benchmark after claiming his 70th win aboard Star Of Fame on 1 June, 2011. Leung amassed 37 wins in the 2017/18 season, enough to earn a second consecutive Tony Cruz Award as the leading homegrown rider. That season also saw Leung notch a first career Group 1 aboard subsequent Horse of the Year Beauty Generation. The rider was also in the plate for Group 3 and Group 2 wins on the gelding. Leung achieved a personal best 48 wins through season 2021/22, including a G2 Jockey Club Cup victory with Reliable Team. 
Honours: Asian Young Guns Challenge winner (2010); Tony Cruz Award (2016/17, 2017/18).
IJC record: 2017 -12th; 2016 -11th (DH); 2015 - 5th.