Racing 101
Want to participate in horse racing and enjoy the exciting atmosphere, but worry about all those complicated jargons, complex odds and draw statistics? Want to pick your desired horse by rational analysis and their emotional characteristics?
With the below 6 key categories, you will be able to better understand the Local horse racing, from general knowledge to trivia, which gives you an edge on the starting line. Racing is easy!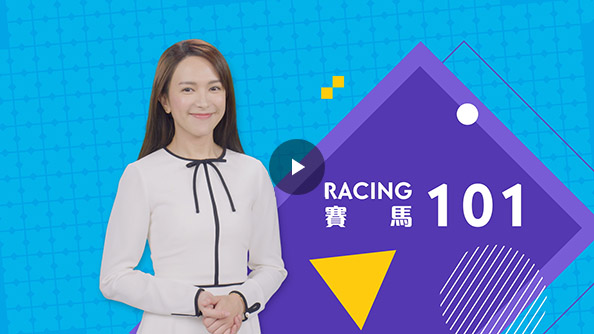 6 key Must Know Categories

Want to understand more? Want to get close with horses at paddocks? Want to feel the moment of hitting the finish line? We welcome you to visit the racecourse and participate in "Racing 101" hosted by our Racing Specialist!
Sha Tin Racecourse Race Day: Digital Zone (1/F Grandstand II, Sha Tin Racecourse)
Happy Valley Racecourse Race Day: Bar Corner (1/F Happy Valley Stand, Happy Valley Racecourse)
Racing 102
How to place a bet after acquiring the basic horse racing knowledge? First of all, you have to know all the bet types! Racing 102 will provide you the information on all the bet types from single-race to multi-race, and further extend to exotic bets. After all, you will find that even All Up betting is easy! Betting, is as simple as that!!!
4 Categories of Bet Types to know

Racing 201
There are different runners to start in each race. Are you wondering if there is any formula on horse picking to follow? The answer is Yes! You can analyze the horses in various areas such as Form, Track and Distance, Jockey and Trainer, Draw, Class and Weight, Condition, and Pace and Trend. In simply 3 steps, you can pick your favorite horses easily!
3 Key Steps to pick the right horses
1st Step: Basic View
2nd Step: Special Adjustment
3rd Step: Final View

Racing 202
How to formulate your betting strategy after picking your favorite horses? Here you will know how to choose the appropriate bet types and form the best strategy base on different scenario. Racing can be easy and interesting!

4 key steps to formulate betting strategy


1st Step: Basic View
Simulcast Racing 101
Apart from Local Race, more and more Simulcast Race beamed live into Hong Kong. Want to know how horse racing operates abroad? Simulcast Racing 101 will provide you the information on Racecourse, System, Draw Analysis and Jockey & Trainer, which gives you a preliminary understanding on Simulcast Race!