Japan and Joao stand proud at the end of HKIR week
The British have a saying that "a week is a long time in politics."
But, as the UK prepares to go to the polls again, Hong Kong racing fans could be forgiven for suggesting that it's even longer when it comes to LONGINES HKIR week.
This year's HKIR took place amid one of the most challenging periods in HK history and started with the shock news that Almond Eye would not be making the trip due to a last minute setback.
The star Japanese filly wasn't the only one with an elevated temperature as officials rushed to revise plans but the show went on and provided seven days of drama that showed Hong Kong's sporting face to the world in memorable manner.
MONDAY DECEMBER 2
Tired of smiling through draw ceremonies that didn't go his way, Karis Teetan decided to hit the gym for Pilates while the jockey allocation for the International Jockeys' Challenge took place.
The Mauritian sensed something unusual when his phone started to blow up halfway through the session with a slew of messages informing him that he had drawn four solid chances including the well fancied High Rev in the final leg.
"I didn't want to cancel the Pilates as that instructor is very good and it's hard to book her," said Teetan. Meanwhile, champion jockey Zac Purton's instant reaction to his book of rides was "awful." He wasn't wrong.
TUESDAY DECEMBER 3
Media call day for the twelve star riders involved in the IJC at Happy Valley and there were a few notable newslines to report.
First, the official photographer almost managed to capture an image of Ryan Moore joining in with what presenter Sarah Song described as "the iconic two thumbs up" gesture.
Second, HK's leading homegrown rider Vincent Ho was absent having treatment for a leg injury sustained at trackwork during the morning.
And third, Frankie Dettori was back in town with all the media attention that entails. Asked why he was back to ride in the IJC for the first time since 2011, his answer was very simple. "When I saw the line-up, I couldn't say no."
WEDNESDAY DECEMBER 4
It took a while – until the final furlong of the last race, in fact – but Teetan made the most of his good rides to beat one of the strongest IJC fields ever seen.
Dual previous winner Ryan Moore took an early lead by winning leg one aboard Flying Genius. Teetan fired back in leg two on Dream Warriors. Colin Keane and fit-again Vincent Ho won on IJC night for the second year running aboard Flying Quest and Glorious Dragon.
But the four points Teetan secured by driving High Rev into third behind Glorious Dragon were enough to take him ahead of Moore for a win that was celebrated in typically joyous fashion.
"It's just not a normal day up against the world's best jockeys," he said. "I was really feeling the pressure but I'm so glad everything went well. I still can't believe I've won this challenge."
THURSDAY DECEMBER 5
Thursday is draw day in HKIR week and Teetan, fresh from pocketing the HK$500,000 IJC winner's cheque, resisted the call of the gym and was beaming again when his Sprint mount Hot King Prawn drew the inside barrier.
John Moore had the eight gate on his wish list for his hot favourite Aethero and wasn't far off the mark as the giant three-year-old drew stall ten, while John Size and Joao Moreira were content to be drawn two away from speedy stablemate Hot King Prawn in three.
But the Sprint isn't the only race in which the draw can play a role. Tony Cruz seemed unconcerned by the fact that Exultant drew stall 14 for the Vase, saying "I prefer him to be out there with clear running." Purton was less pleased, saying "it is what it is." Three days later, the outside gate posed problems for HK's champion stayer.
FRIDAY DECEMBER 6
Japanese trainers are well used to preparing a horse to peak overseas but there is no one set method.
Glory Vase stayed in the quarantine area while others headed to the track, while Win Bright exercised on the AW track and Admire Mars followed his workout with a trip to the paddock and starting gates.
Connections of all three seemed confident and, with hindsight, Yoshihiro Hatekayama's comments about his QEII Cup winner Win Bright are striking.
"With or without Almond Eye it is not a care for us," he said. "Every time he's been working his condition has been improving. I am confident."
Later on, Dettori was the centre of attention again when picking up the LONGINES World's Best Jockey Award for the third time at the annual HKIR Gala Dinner.
"Watching the highlights tonight makes me realise what an amazing year it's been," he said. "Enable's win in the King George has to be the highlight. I've been around a while but she's taken me to places emotionally that no horse ever has."
SATURDAY DECEMBER 7
Good news for two horses being monitored for lameness and bad news for another as pre-race vet checks were completed.
Japanese raider Lucky Lilac and French visitor Called To The Bar were both cleared to run in the Vase, but plans to run Aussie G1 winner In Her Time in the Sprint were jeopardised by a cracked foot.
Meanwhile, Purton was optimistic yet realistic as he looked ahead to one or more of Aethero, Exultant and Beauty Generation helping him break Gerald Mosse's record of eight HKIR wins.
"Aethero has been impressive in everything he's done," he said. "We're all hopeful that John Moore has been able to work his magic with Beauty Generation and Exultant always gives me his best but it's a shame we drew where we did."
SUNDAY DECEMBER 8
The day dawned bright and the Japanese national anthem rang around Sha Tin three times as the Land of the Rising Sun completed perhaps the most memorable racing year in its history.
Purton's worries about stall 14 for Exultant proved well founded and Glory Vase took full advantage, powering clear with Moreira aboard for the first time and joining the world's elite with a runaway win.
Aethero gave his all in the Sprint only to be worn down in the agonising final strides by Moreira on Beat The Clock and Teetan on Hot King Prawn.
Admire Mars swooped late in the Mile under Christophe Soumillon to pay an emotional tribute to his recently deceased owner Riichi Kondo, while Win Bright confirmed that Sha Tin suits him perfectly by holding the luckless Magic Wand in a frantic finish to the Cup.
As at the end of any major raceday, the joy and pain was evident wherever you looked.
Moreira's smile lit up the night as he talked about family in Brazil; Purton walked home wondering how a day that promised so much ended with three bronze medals; champion trainer John Size beamed as he talked about Beat The Clock's courage; and the tears shed by Japanese trainer Yasuo Tomomichi over Admire Mars had been replaced by deep pride.
Hong Kong's biggest racing week of the season was all over bar the traditional closing remarks from HKJC CEO Winfried Engelbrecht-Bresges.
"The quality and the excitement we have seen today shows what Hong Kong racing is all about," he said. "It is a day to celebrate because, despite a lot of challenges, we have staged something that I don't think many organisations in the world could have done."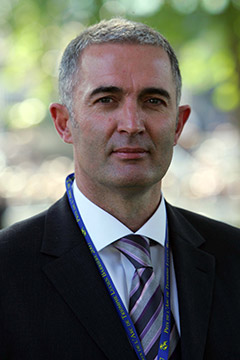 Graham Cunningham
Graham Cunningham chose a career in racing ahead of the law thirty years ago and has never regretted it for a moment.
Nine years with the world-renowned Timeform organization paved the way for a lengthy spell as a reporter and columnist in various newspapers, starting with the Sporting Life and followed by the Racing Post and the London Evening Standard.
Graham also spent a more than a decade on television in the UK as a lead analyst for Racing UK and Channel 4 but moved to Hong Kong early in 2017 and is currently employed as Senior Racing Media Content Specialist for the Hong Kong Jockey Club.