Crown slips again as Beauty endures another tough day
It takes a little over 90 seconds for a star miler to shine but far longer to ensure he presents in peak condition. Beauty Generation had a point to prove at Sha Tin recently after a shock defeat in the Sha Tin Trophy and Graham Cunningham tracked him from dawn to dusk in his bid for a second Jockey Club Mile win.
3.30AM:
Beauty Generation needs his beauty sleep. But not much. Most horses sleep in short spells for just a couple of hours in any 24-hour period and trainer John Moore explains that the day starts early - very early.
"Once the barn doors open his mafoo cleans the manger, clips him up and checks all over his body to make sure nothing has gone amiss overnight. He also takes his temperature every day – that's very important - and picks his feet up to make sure his shoes are tight."
4.30AM:
Work rider Romain Clavreul knows what to expect when he checks in. "Beauty's feed changes in race week and on Saturday his meal is very strong so he is aware Sunday is raceday," he says. "Every weekday he moves and tries to bite as you put his saddle on but on race morning it's so funny. He just stands and looks at you. He definitely knows this is showtime."
5AM:
A few lively bucks and kicks in the yard and Beauty Generation makes the short walk to the Sha Tin trotting ring. "We do about eight or nine laps and I start singing to him," adds Clavreul. "It's stupid, I know, but he seems to like it. After that we go home and I give him a carrot, pat him on the shoulder and wish him good luck as I won't see him again until the race."
6AM:
Breakfast time and the boss is head chef. "He gets washed down after exercise and then I do all race day feeds myself," says Moore. "Luke the farrier comes to check his shoes later on and then he's back in his box until it's time to prepare for the race."
Highs and lows of the Beauty parade
1PM:
Swimming is a regular part of Beauty Generation's routine and Moore reports that "he's like a high-speed Hovercraft." However, after a Saturday dip his Sunday warm-up is a spell on the horse-walker before groom Lau Wai Kit sets about making him look his best.
2.10PM:
Off to work as Beauty Generation makes the 600m walk to the saddling area next to the Sha Tin weighing room. His nervous energy is evident as Moore arrives but the trainer knows the drill. "He goes into a different comfort zone as I saddle him up," he says. "He's totally focussed but he doesn't give you much time and once the job is done he'll walk all over you."
2.25PM:
Heads turn as Beauty Generation enters the spectacular Sha Tin paddock. Parading in the heat can be daunting but this is the 26th time he has done so and his coat gleams in the sunshine as Zac Purton hops aboard.
2.40PM:
Beauty Generation arrives at the starting stalls to be met by a familiar face. Clavreul works on the race day gate crew and the routine is established. "He tosses his head when he sees me and I go over and say 'champ, champ.' If I'm not walking him in I'll wait in his gate," he adds. "He looks straight ahead then, five seconds before they jump, Zac always asks me to give him a tap."
2.47PM:
Gates fly back and Hong Kong's most celebrated horse sets out to restore his bruised reputation. Moore and son George assume the same grandstand position they have watched hundreds of big races from. Back at the stalls, Clavreul watches nervously on his phone, heart pumping as he waits for the rumble of crowd noise that usually tells him all he needs to know.
The rumble never comes. Moore rocks in his seat, arms folded tight as it becomes painfully clear that Beauty Generation's third quarter surge hasn't drawn the sting from his rivals. Purton is powerless as Joao Moreira zips through on his inner aboard Waikuku. And a toiling Beauty Generation also yields to Ka Ying Star as the winner beats him for the second time in a month.
2:54PM:
Purton and Moore conduct a debrief on the way back to the weighing room as Beauty Generation is led away to the testing area just 100m from the winners' enclosure. The equine body language is notable. Waikuku trots in proudly, the winner's blue silk sash still draped around his neck. By contrast, Beauty Generation ambles in, head bowed low, battle fatigue still evident.
5:20PM:
Sample provided and energy restored, Beauty Generation exits the swabbing area and heads home shortly after the final race of the day. Win or lose, his shift ends the same way. "He has a sand roll then he's walked for 30 minutes," says Moore. "After that he gets a carrot and some Polo mints and that's a day in the life of Beauty Generation."
7.30PM:
Lights out at the barn and, around Sha Tin, the team behind Beauty Generation takes stock.
Moore has unleashed a new young star in his thrilling Jockey Club Sprint winner Aethero, while Purton has partnered the exceptional Exultant to an emphatic Jockey Club Cup success. Clavreul studies replays over a quiet dinner cooked by partner Melody but all are left wondering where Beauty's brilliance has gone.
Moore plans to "tweak a couple of things," Purton insists "we know he's better than that" and Clavreul says "it really hurts" but insists "we haven't seen the end of him, for sure."
Waikuku's trainer John Size says "Beauty Generation will be the horse to beat again" on 8 December and history relates that Good Ba Ba also came up short in the Sha Tin Trophy and the equivalent of the Jockey Club Mile before claiming a third consecutive Hong Kong Mile success in 2009.
Time will tell whether the master miler can emulate one of the legends of HKIR. For now, the king remains on the throne. But his crown is no longer secure after another tough day at the track.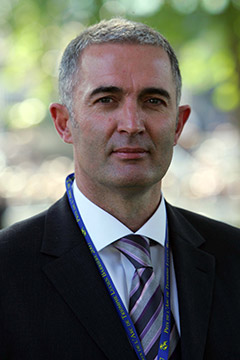 Graham Cunningham
Graham Cunningham chose a career in racing ahead of the law thirty years ago and has never regretted it for a moment.
Nine years with the world-renowned Timeform organization paved the way for a lengthy spell as a reporter and columnist in various newspapers, starting with the Sporting Life and followed by the Racing Post and the London Evening Standard.
Graham also spent a more than a decade on television in the UK as a lead analyst for Racing UK and Channel 4 but moved to Hong Kong early in 2017 and is currently employed as Senior Racing Media Content Specialist for the Hong Kong Jockey Club.