Bubble intact as Hong Kong reflects on a LONGINES HKIR like no other
Not a single race lost. Five short words provide one way of telling the tale of Hong Kong racing in 2020 but the road to this year's LONGINES Hong Kong International Races was bumpy and Graham Cunningham has spoken to key players to reflect on the highs and lows of a turbulent year in the original Racing Bubble.
It started on the first night of a huge Hong Kong holiday weekend.
Roger Federer was struggling against journeyman John Millman at the Australian Open when it emerged that the official risk level for Coronavirus had moved from "Serious" to "Emergency."
Federer came through in a fifth set tie break but Hong Kong racing rolled up its sleeves for a far longer battle, with the crowd for Golden Sixty's Classic Mile win on Chinese New Year Raceday (27 January) slashed and procedures swiftly put in place to ensure the sport could continue amid a looming pandemic.
"It wasn't unexpected," says Hong Kong Jockey Club CEO Winfried Engelbrecht-Bresges. "Emergency was one of the things we planned for when we mapped out different scenarios at the beginning of January and our Racing Bubble was ready to be implemented right away.
"Discussions with leading experts suggested this could be a more serious situation even than the SARS outbreak of 2003. Would I have thought it would be quite such a long haul? I'm not sure, but even then we were certain this was not a short term problem."
The weeks that followed saw Hong Kong's most vibrant brand move behind closed doors in a way that set the tone for major sports worldwide. And now, almost eleven turbulent months on, a city of 7.5m people is riding out a fourth Covid-19 wave, with Sha Tin's ritzy restaurants largely empty again and Happy Valley's famous Beer Garden echoing eerily to the sound of whips cracking and jockeys shouting as horses thunder past deserted stands each Wednesday night.
But, inside its protective bubble of mandatory masks, temperature checking and social distancing, racing continues to act as a symbol of Hong Kong resilience at the end of a year that has tested Engelbrecht-Bresges and his HKJC teams like never before.
"Our guiding principle has always been that none of our activities should create a public health risk or create a public health risk for our employees, licensed persons or our customers," he adds.
Stringent protocols in two racecourses, a hundred Off Course Betting Branches which have been opened and closed according to perceived risk level and a variety of HKJC facilities have ensured those risks have been kept to a minimum but, inevitably, there have been anxious moments.
"The first main one came in March when Hong Kong's Chief Executive Carrie Lam called a meeting which granted the Club an exemption order that defined racecourses as workplaces and recognised racing as in the public interest," adds Engelbrecht-Bresges.
"As time moved on we had a certain number of positive tests just outside of our Bubble followed by the fear that testing close contacts would produce a positive from within. And now we have the challenge of another wave of infections, but the attitude of Hong Kong people has been vital.
"SARS had a huge effect on this city. Well before the pandemic came along it has been normal for people to wear masks even if they have just a cold or the flu. They do this purely to assist others, which in turn helps society enormously, and this collective awareness and discipline, combined with the ability of our organisation to establish and carry through on clear processes, has been instrumental in our ability to keep racing safely right through the year."
Jockey Club team members who are accustomed to receiving regular emails from 'EB' in the wee small hours will not be surprised to hear that their CEO reports that "you never have a full night's sleep without thinking about this situation.
"You live on eggshells and it has been draining over a long period of time but, besides being perhaps even more challenging than SARS, this year in a way has also been the most rewarding."
Those rewards have manifested themselves in various ways, with high wagering turnover and even higher public approval ratings linked to a Charities Trust which has committed over HK$600m to to mask provision, care packs, data bundles for students and a substantial food programme for the unemployed.
A different type of dividend paid off on Sunday 13 December at Sha Tin when 15 individual G1 winners squared off for four international contests worth HK$95m.
Ryan Moore emerged from a week in a specially created international bubble within the Racing Bubble to win the LONGINES Hong Kong Vase on the Aidan O'Brien-trained Mogul.
Moore then paid tribute to the team who laid the foundations for a significant global presence after landing the LONGINES Hong Kong Sprint for Japan on Danon Smash, while Hong Kong champion Zac Purton became the most successful rider in HKIR history when fellow Japanese raider Normcore gave him his ninth international day success in the LONGINES Hong Kong Cup.
Last but not least, the ultimate Racing Bubble horse for 2020. Golden Sixty starred in the Classic Mile on that first day Behind Closed Doors in January and completed a flawless 2020 campaign by leaving a world-class field of G1 winners gasping for breath under an ultra-confident Vincent Ho in the LONGINES Hong Kong Mile.
After more than twenty years in his adopted home Engelbrecht-Bresges is fully attuned to the value of homegrown heroes in tough times.
"Staging the best possible international race meeting at this time is a perfect example of Hong Kong's spirit and the fact that major operations like Aidan and his Ballydoyle team and our Japanese friends have trusted us to do that, both last year through civil unrest and now through the pandemic, is very significant," he adds.
"But the symbol for Hong Kong in this year's HKIR is undoubtedly Golden Sixty. He and Vincent have been the stars of the Racing Bubble all the way through this incredibly challenging year.
"Golden Sixty is definitely one of the best milers in the world now, while Vincent has truly arrived on the global stage, and I could not be prouder of the Club and its teams for helping to showcase the strength, resilience and 'can-do' spirit of our city on a day when the event went to absolute perfection."
Kelly praises "exemplary" riders
Hong Kong's Chief Stipendiary Steward has a one word answer when asked whether he has ever feared for racing's ability to continue during the pandemic.
"Never," says Kim Kelly, who became a cadet steward in Australia in 1985 and, having joined the HKJC in 2002, has been leading raceday panels in his current role since 2009.
"I had complete faith in the measures put in place," adds Kelly. "Those measures have been well above those for the man or woman on the street but they are necessary, not only for the good of the Club but also for the good of the city.
"Racing in Hong Kong affects so many limbs of the tree – with massive financial ramifications that stretch far beyond just those who are employed in the sport – but I've never doubted that racing could keep going provided everyone involved did the right things in accordance with the Club's clear plans."
For key personnel (including stewards) those things have involved being tested for Covid-19 four times a week, while jockeys have had to adapt to various professional and personal protocols including a system designed to log the where and when of their social movements ahead of time complete with names of those accompanying them.
"Jockeys are such a critical portion of our industry and they have had a lot of restrictions placed on them but they have handled the challenge in exemplary manner," adds Kelly.
"This has been a tense year for everyone and I was concerned during the off season about whether the inability of riders to get away and unwind might cause problems but we haven't had any more issues than in previous seasons.
"The Inquiry Room can be a tense place. We're ruling on livelihoods in a split-second sport with safety and integrity of paramount importance – so of course it's going to have its moments – but never at any stage has there been anything other than the normal cut and thrust."
One of the "moments" Kelly refers to came in late March when homegrown rider Keith Yeung went down with a sore throat and a high temperature.
"That was a scare, for sure," reflects Kelly. "Fortunately Keith's tests came back negative but the fact that we had a nervous 24 hours when no-one was sure caused a lot of anxiety and brought home to a lot of people what a huge amount was at stake."
Kelly is acutely aware of how quickly things can change in the Covid era and occupied his own Racing Bubble in March when a trip home to see family ended just as Hong Kong's new quarantine rules came into force.
"I have to say that 2020 has presented challenges that I never dreamed I would have to give any thought to," he adds. "If 2021 went back to the way that 2019 was I can't say I'd be upset, but I've no doubt that when we look back in five years we'll reflect on 2020 and say it made us all a lot more resilient."
Magic Man missing his Mum as show goes on
Joao Moreira hasn't seen his elderly mother or his brothers and sisters back in Brazil for over a year. He may not see them again until well into 2021 or beyond but, in company with many other stars of the Hong Kong racing scene, he takes the view that the show must go on.
"We are very blessed and lucky to have a jurisdiction that was able to keep on racing, so my tribute and gratitude to all the leaders who were able to make it happen – we all know who they are," he says.
"We all have to be more cautious in regards to the virus. We've been very responsible. The Club has been doing their job in regard to checking all the time and making sure we go to safe places and avoid high risk places, so it's been a very abnormal situation for all of us.
"I do have relatives (in Brazil) that have tested positive but all of them have been able to cope with it and come through. But, of course, I'm very worried about my Mum in particular.
"I'm very pleased and proud of how she's been handling it and hopefully she will stay that way until we get out of these big problems.
"There's no doubt that Brazil is the place I want to go next just to give a big kiss and hug to my Mum, who I miss so much."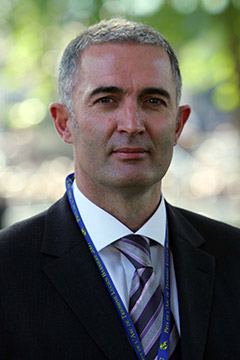 Graham Cunningham
Graham Cunningham chose a career in racing ahead of the law thirty years ago and has never regretted it for a moment.
Nine years with the world-renowned Timeform organization paved the way for a lengthy spell as a reporter and columnist in various newspapers, starting with the Sporting Life and followed by the Racing Post and the London Evening Standard.
Graham also spent a more than a decade on television in the UK as a lead analyst for Racing UK and Channel 4 but moved to Hong Kong early in 2017 and is currently employed as Senior Racing Media Content Specialist for the Hong Kong Jockey Club.