Back and better than ever – Frankie on top of the world for LONGINES IJC return
Frankie Dettori will top a stellar bill when he returns to Hong Kong for the LONGINES International Jockeys' Championship on 4 December but a lot has happened since the world's most famous rider captured the IJC trophy for a third time in 2011.
The mind drifts back to 20 October, 2012, and a day that felt like the end of an era, or two eras; that of the flawless Frankel, and of the fabled Frankie.
In the hours after Frankel put the finest full-stop at the end of a perfect paragraph in Ascot's Champion Stakes, it was announced that Frankie Dettori and Godolphin were ending an awesome association which had spanned 18 years and 110 Group 1 wins. Divorce hit hard.
If Dettori jumped before he was pushed, as he later claimed, then there seemed no bungee rope attached. The valley floor arrived in December that year when he was banned for six months after returning a positive sample. He was already 42.
Frankel, meanwhile, was beginning stallion duties, out of the spotlight, meaning British racing was suddenly starved of the oxygen generated by its two brightest stars. To many, it appeared Frankie might also be exiting the stage, out of sight, out of favour, perhaps even out of time.
In many cases, 42 tends to be near the outside edge of a rider's working existence and endurance. Upon returning, in 2013, Dettori had just 14 top-level rides with a solitary G1 win to show for it. Logic suggested the sun might be setting on a colossal career.
Enable the star of a stellar season
But to paraphrase Mark Twain, reports of the death of Dettori's power and pulling-power were greatly exaggerated. The fact that Frankie's final chapter looked all but written in 2013 has only magnified the magnitude of his extraordinary epilogue.
In 2001, Dettori's presumed prime, just turned 30 with the might of the Godolphin machine behind him, riding the crest of a blue wave, he won 16 G1 races.
This year, far from being past it, he actually passed it, amazingly amassing 19 top-level wins. If the troubles of 2012 showed Dettori to be mortal, his remarkable renaissance has made him immortal, now and forever fixed in racing folklore.
Viewed individually, any one of this year's Group 1 stack has a trick or tactic that is trademark Dettori, though many would nominate the exquisite blend of patience and finesse he produced to partner the mighty Enable to a second King George as the masterpiece.
However, like a gallery exhibition, only by regarding the 19 collectively can you really see a master at work, an artistic anthology that illuminates every brushstroke of the Frankie flair.
Art communicates because it expresses. Dettori is expressive by nature, but professionally he's expressing himself like never before. Those 19 Group 1 wins, each followed by a flying dismount that would destroy the knees of most fortysomethings, resonate beyond the racing bubble to the wider public in a way that has been priceless to the sport through four decades.
It's easier to judge the present when it has become the past, and it's not stretching things to say that history will look upon Dettori as the single most important figure in British racing, combining what he did in the sport and what he did for it.
The reason things appear to come easy to him, from global ambassador to ingrained athlete, is due to his understanding, of not growing old but growing up, exponentially, by embracing experience.
More than ever, and arguably more than anyone ever, he understands horses because of racing and understands racing because of horses, like some secret knowledge, accrued by age and application. And it also helps when someone understands him.
Gosden the perfect partner in G1 glory
The catalyst for Dettori's rejuvenation has been trainer John Gosden, another example of racing coming around in circles, because the small, passionate Italian was stable jockey for the tall, measured Englishman way back in the 1990's. Gosden and Dettori are the Simon and Garfunkel of racing: great individually but something magical together.
Of Dettori's 19 Group 1 wins this year, Gosden provided 15 from just 31 premier league partnerships at a strike rate that almost beggars belief. Two came in British classics, namely Anapurna in the Oaks and Logician in the St Leger, completing a cultural circle, being a daughter and son of Frankel.
Seven years on from what seemed an era-ending evening, at the same Ascot Champions Day fixture, Dettori returned victorious aboard Gosden's Star Catcher for the 250th Group 1 success of his astonishing career.
The walk to the winners' enclosure took him past a life-sized statue of Frankel and it felt like fate. Frankel's stock are winning, Frankie's stock has never been higher. Twin suns, shining again, because of the generational game of bloodstock and the revolutionary fame of jockeys.
In his early days, Frankel exhibited unbridled brilliance that bordered on reckless before evolving into a racing phenomenon, mixing show-stopping style with clinical concentration. It's a summary with clear echoes of Frankie, but there's a more pointed and powerful parallel for the simple reason that there will never be another like him.
Dettori's three IJC victories – along with memorable HKIR wins on stars such as Falbrav and Fantastic Light – are firmly embedded in Happy Valley and Sha Tin history.
For Hong Kong, Frankie is worth the eight-year wait. For racing as a whole, he remains worth his weight in gold, propelled by a stellar season that has put him back on top of the world, reaching an advanced stage at an advanced age.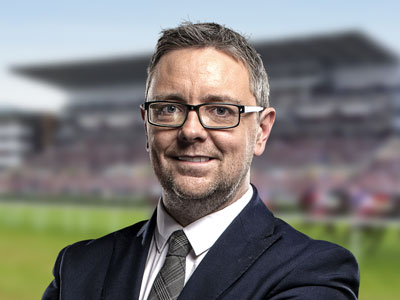 Jamie Lynch
Although horseracing was never in his blood, Jamie Lynch always had it in his mind from an early age, and within weeks of graduating from university with a degree in journalism he joined Timeform, the world-renowned form and ratings experts. In 20 years at Timeform he worked his way up to the position of Chief Correspondent, writing and later broadcasting about racing. At the start of 2019 he moved to Sky Sports Racing to become the channel's Senior Form Analyst.