Aidan still worth his salt as HKIR looms large again
It is nearly 15 years since my first visit to Ballydoyle to shoot a film. It was deep winter, the sort of cold that grinds into the marrow if you're normal, but which is described as 'fresh', 'bracing' or perhaps 'character building' if you work routinely with horses.
At a junction where a private road intersected a horse crossing, a man in a navy coverall, his hands raw from the chill wind, scooped salt slowly and methodically onto the icy tarmac. As we approached, our driver wound down his window: "Morning Jim." "Good morning, Aidan," came the reply, "Good man Jim, great job, just mind that salt doesn't spill on to the crossing there, Jim, as it can hurt the horses' heels. Good man Jim, well done, Jim."
And, with that, Aidan O'Brien drove on, passing his 4x4 perilously and apparently deliberately close to five-dozen immaculately behaved and well-drilled young thoroughbreds and their smartly attired, straight-backed riders. No slouching here, no deviation.
That O'Brien, still only 50 yet already the world's most successful racehorse trainer of all time, addresses each of his staff individually and by name as he draws alongside them has become a theme much beloved of sports writers and television features.
Commendable though that may be, it is but the merest emblem of the quiet, but steely command that this ring master has over his gilded circus.
More recently, filming at Ballydoyle ahead of the Kentucky Derby, my NBC crew was aghast at the rare sight of a loose two-year-old careering headlong and flat out towards us in the jeep.
In mid-telephone interview with one of the racing channels, the 22-time champion trainer calmly got out and, with barely more than a loudish whisper and a raised palm, brought the adrenaline-fuelled juvenile to the most serene halt. About four feet from the front bumper.
Total immersion the secret to success
Where the dynamic of some racing stables or training centres can often represent a frenetic urgency or sense of organised chaos, here the energy is carefully controlled and harnessed.
The horses work hard, the people work harder, the boss works hardest. I once asked Aidan's formidable former boss Jim Bolger the secret of his own success. "Focus," he replied, narrowing his eyes and immediately making me feel lazy and distracted in the process.
O'Brien has taken a leaf from Bolger's playbook and added the chapter marked "total immersion". So much so that he almost always flies home each day from major racing festivals to supervise the following morning's work.
His one tiny diversion from this almost ascetic regime of self-denial comes during Breeders' Cup week, in which he allows himself just a smidgeon of downtime with his family, staying through the entire event, perhaps even taking in a football game or similar.
This may explain why Aidan seems at his most relaxed during these few days, mingling easily with the media and fellow horsemen, his responses to questions as courteous as ever, but perhaps fuller and a little less 'on-message'.
This is also historically the week in which O'Brien and his wife Anne-Marie have been able to derive the deepest pleasure from those horses and humans closest to them.
In the days when they were eliciting spellbinding performances in unfamiliar conditions from Johannesburg, High Chaparral and Giant's Causeway, their four children were toddlers.
Little more than a decade on, son Joseph was riding St Nicholas Abbey to a famous victory in the Breeders' Cup Turf at Churchill Downs. And this year, at just 26, Joseph became the youngest ever to train and ride winners at the Breeders' Cup when Iridessa landed the Filly & Mare Turf.
Aidan's younger son Donnacha, aged 21 yet already a dual champion jockey in Ireland, has recently followed older brother Joseph into the training ranks. He was asked last year what was his greatest attribute. "Being my Dad's son," he replied, languidly, but with total sincerity.
Yet nobody nowadays is surprised by either the prodigious or the prolific when it comes to the O'Briens. Quite simply, they have made it ordinary to be extraordinary, a sentiment that can equally apply to some of the equine talent within Ballydoyle.
Galileo the daddy of them all as Aidan arrives three-handed
Take Magic Wand, who will be having her 11th G1 battle of the year – spread between Ireland, England, America, Dubai, Australia and Hong Kong – when she lines up in Sunday's G1 LONGINES Hong Kong Cup.
The four-year-old is a classic example of the O'Brien work ethic. Think capturing Flemington's Mackinnon Stakes on her third G1 run in a fortnight four weeks ago was impressive? Well, of course it was.
But only when you add in the fact that Magic Wand has also made the 11,000-mile journey back to Aidan's beloved Ballydoyle again since do you begin to get the full picture of her own durability and her trainer's famous desire to control whatever is controllable.
Before Magic Wand came Sha Tin darling Highland Reel, who signed off with a second gloriously zestful win in the Hong Kong Vase two years ago just a few weeks after giving his all for third in his bid for back-to-back Breeders' Cup Turf wins at Del Mar.
It is true that there are some within O'Brien's care so valuable to his Coolmore patrons as commercial stallion prospects that their careers are necessarily but regrettably brief. But for those for whom the breeding shed is not a matter of urgency, the world becomes a whole lot smaller.
Highland Reel's legend grew with almost every one of his 22 foreign trips and Derby winner Anthony Van Dyck (who also lines up on the back of a Breeders' Cup Turf third) and Mount Everest will add notable stamps to their passports as they try to emulate Aidan's sole HKIR winner in Sunday's Vase.
Are they as good as Highland Reel? Not quite. Could they get there in time? Quite possibly. Are they likely to thrive rather than recoil from an apparently gruelling schedule? You had better believe it.
Both horses are, along with Magic Wand, by Galileo, the game-changing supersire whose qualities are so admired by O'Brien: Galileo imparts ability, application and mental strength, the very same attributes the man himself exhibits and expects of those in his care.
Back in late 2004, Aidan's nephew Tom – now a senior Jump jockey based in the UK – stopped me at the races to tell me that he had enjoyed our feature about Ballydoyle. I thanked him. "You met my Dad," he said. I looked blank. "Yeah, that was him putting the salt on the road."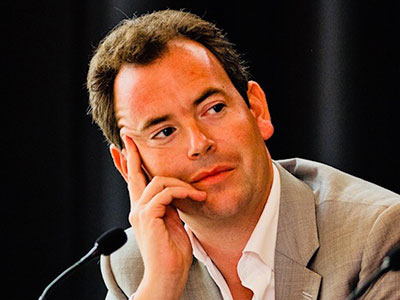 Nick Luck
Nick Luck is an International racing broadcaster who has been an integral part of network television presentation of the sport's biggest events for 15 years. He is currently a host/reporter for NBC Sports, encompassing the Triple Crown, Breeders' Cup and Royal Ascot, as well as Racing TV, for whom his widely acclaimed UK-based talk show, Luck on Sunday, is now in its third season. He has been voted Racing Broadcaster of the Year seven times.